Mike Goldberg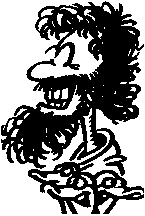 Regular contributor to Acorn User and Acorn Computing, and a rather fine cartoonist. I could quite happily do a page on this site containing only his cartoons. From the blurb in Acorn Computing:
"Mike Goldberg is a professional illustrator who's been creating games for the BBC Micro and more lately, the Archimedes since 1982 - he was one of the Ms in the immensely successful games company MRM.
He has written many of the best type-in games for The Micro User and recently created Dream Quest for the Arc. He still owns an Electron and two BBC Micros as well as a big cat."
These days he runs a gallery and pottery shop in Lincoln, along with his wife Lea. Visit their website at http://mysite.wanadoo-members.co.uk/omnipuss/index.jhtml . They trade under the name of "Omnipuss"!
It's also well worth visiting The Beebgames page on MRM software (Mike Goldberg is one of the 'M's). It contains some very interesting reading of games written and projects gone bad, as well as links to all the MRM games for download.
Thanks to Steve Scott and Richard Talbot-Watkins for this extra info.
Articles from this contributor:


(4 articles in total.)
---